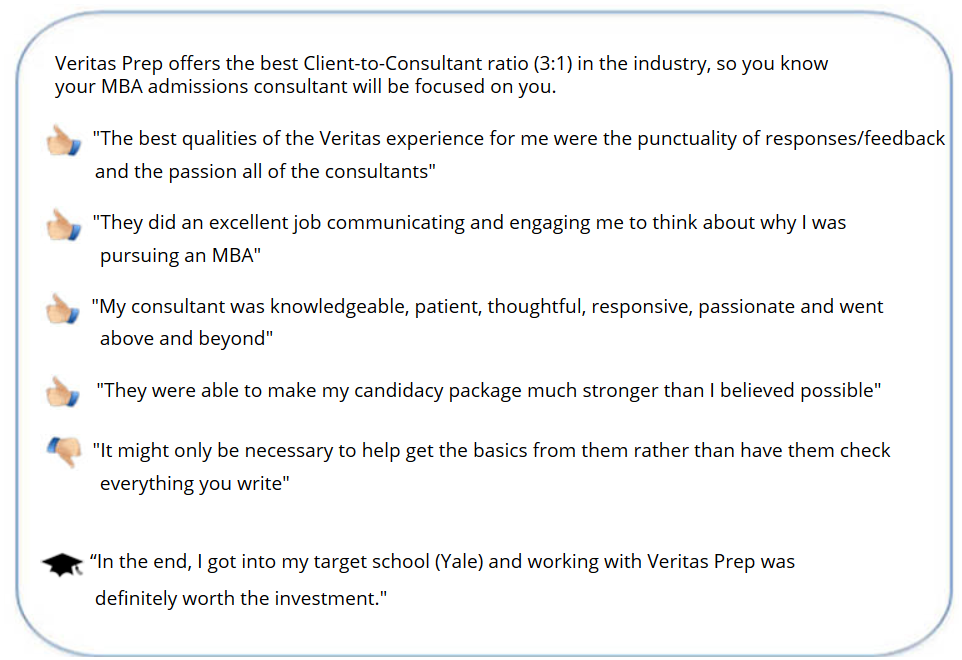 Reviews from Beat the GMAT forums
Username: money911
Posted on: Jan 18, 2011
Total messages by user: 2075
My last Veritas Prep Consulting Package debrief was completed back in September. In that debrief I gave an overview of my experience prior to applying anywhere. In this debrief I plan to go into detail about my experience with Veritas from preparing for the application season in September through finally hitting the submit button on my applications in January. I will end with my comments on why I thank the folks at Veritas for including the consulting package in the Giant GMAT Giveaway contest in February of 2010.
In August I was in the midst of studying for the GMAT, writing essays for various school's diversity weekends and working on an Early Decision application which was due in October. I remember sending five rough drafts of essays over to my consultant and even added a disclaimer reiterating that fact. I remember feeling thrilled that I finally had started the essay revision process and was excited to get feedback. My consultant emailed back with comments on all five essays the very next day. (I just checked my email history). I was surprised to hear back from her so soon because I did send five essays, but when I saw the email come through I was anxious to see her comments.
She said that the main theme she saw in my essays was that I was not answering the questions. Her email went on to say that I described situations but don't attack the heart of the question. She said "Put yourself in the admissions committees' shoes. Why are they asking these questions? What do they want to learn about you in order to determine whether to admit you to the school?" I knew what she meant by this because at that juncture it was hard for me to write my essays and it should not be. I was trying to write the way I thought the admissions committee wanted to hear my story. When I read my consultants comments I basically took it as, "You're trying too hard and are ending up beating around the bush!"
That was the first paragraph of her email! Then she provided comments for each of my five essays which were hard to read at the time. Looking at them now I am grateful for them. This was my very much needed "a-ha" moment! The end of the email, when she said that I am an interesting person and these essays do not do my passions justice, picked me back up again. She ended with making sure that the next time around I focus on what the admissions committee is truly asking. She suggested that I revise the essays I'd like to keep and that I send her an outline of replacement essays for the ones I want to start over.
By the time September rolled around I realized that I would not be able to make the Early Decision deadline for the school so I emailed my consultant to let her know. I felt bad that I had sent over five essays for her to review and now would not be using them. However this was never an issue and she understood my position. In September as I was obsessed with my GMAT prep, I found time to write my diversity conference essay. I went through many revisions of this essay and then the day before submitting it, I sent it over to my consultant to get her thoughts. I knew that I wouldn't be able to change much but I guess I wanted the validation from her that it was good to go. Her response was "I did a quick read of your diversity essay, and it looks good! Nice work." I was ecstatic after her comments and felt confident sending my essay along to the school. It was then that I felt I had a pretty good grasp on how to write business school essays. Had it not been for her initial review of my five previous essays, I would not have been able to churn out that diversity conference essay the way I did.
Through September, October, and November I did not have any essays for my consultant to review because I was studying and visiting schools. However, I was preparing for December and January, making sure that the rest of my application was set. I would periodically email her with an update of how I was managing the process. I knew the GMAT was going to be very important and she understood that was where my time was spent.
During this "down" time, I was able to send my resume to her before my Consortium interview. Figuring that my resume won't change much between November and when I submit it, I could at least get that out of the way. Who better to have review your resume than someone who recruits for Boston Consulting Group at Stanford?
I formatted my resume in a way that I thought was proper MBA format. Much to my surprise when I received the resume back the format had not changed! There were many grammar edits, however. I also remember seeing notes about quantifying my accomplishments, which is pretty standard, but difficult to see when you are the one writing the resume. She also suggested I change around the extra-curricular activities section to make it more concise. My resume editing was a relaxing process because I knew the changes she recommended were just what I needed to perfect my resume. When I look at the version that I sent to Veritas in March, and compare it to the version I just recently submitted, I am blown away!
After my Consortium interview I was able to shoot my consultant an update email and asked her how I should proceed with writing a thank you note to my interviewer. I knew that I should write one, but normally before emailing someone at a school I stare at an empty email trying to collect my thoughts. This time around after the interview I decided to get her thoughts on what I should mention and how to proceed. Her advice reconfirmed what I thought I should write, but again it's nice to have that validation from an expert.
As December rolled around, I was finishing up my third GMAT attempt and got into a situation where late December rolled around and I was just now sending over my two of my three core Consortium essays for her to read through. By this point I had gone through a couple of rounds of edits myself because I wanted to send her a more perfected version. The deadline was fast approaching so I figured that it would be easier for me to get her thoughts on a version that was closer to the final product. This proved to be a good strategy because when I received back both drafts there were more grammatical errors than bullet point comments of ideas I should flush out. For me this was a big help.
I knew that going forward I would be able to continue to perfect these two essays, but making sure that all of my sentences and punctuations were grammatically correct would be a roadblock for me. I tried my best to check my work in these two essays before sending them over to my consultant, but when I received them back from her, usually within a day, I saw that I had missed so much. Thankfully she was able to catch the grammatical errors that I missed.
After I had my two core essays squared away I sent over the third Consortium essay. I had been putting this one off for a while because it was the hardest one for me to brainstorm about. I remember when I sent it to my consultant with a disclaimer saying that I felt that it was all over the place. When she responded she echoed my sentiment that it was pretty scattered but she also said that she added comments in there to help me focus it. In hindsight I think by the time I tackled that essay I was burnt out and could not think about the organizational structure of an essay any more. Thankfully she was able to help me refocus, and after a couple of rounds of edits, I was no longer receiving comments because I had corrected them all. This was my cue that the essay was pretty much at it's final state.
After I pressed the submit button on January 5th, I thought all of my essays were completed. I then found out that I needed to submit a scholarship consideration essay to one of my schools. I wasn't sure how to proceed with this essay because from looking at my other essays the school would know about my whole life. Not knowing what to write, I emailed my consultant again for some advice. I asked her what I should focus on in this essay, that I wasn't sure the admissions committee would see it since it was going to the financial aid office. She graciously wrote back on probably the busiest day of the year for admissions consultants, the HBS R2 Deadline, with two options for me. I opted to go with her second option, but it was a relief to be able to get her feedback.
Reflecting on this process I see the benefit of having an admissions consultant in my corner. For me the benefit has been the ability to shoot an email to an expert to either correct and/or validate what I am doing. I have found that there is a lot of second guessing that goes on when applying to business school. Should I email this person? Should I write this sentence/essay in this manner? Should I retake the GMAT? It has been a privilege for me to work with someone with insight into this process. The most important characteristic of my consultant that I cherish is her objective eye. I have become so wrapped up in the application process that even when I step back to look at my candidacy as a whole I focus on what I think is important. Working with my consultant has allowed me to see the potential holes in my candidacy so that I can explain them in a proper manner. This has been invaluable!
Reviews from Admissions411.com
User: Private
I would never recommend it to anyone. They have high-profile names but they add no value to your essays.
User: Private
Fantastic service. Great advice and knowledge.
User: jcl246
told me to emphasize innovation and entrepreneurship–but mostly, be myself!
User: Private
I didn't think I was going to shoot for HBS, but my consultant convinced me I had a shot. Admitted this week!
User: Private
Very good results with my Veritas coach.
User: Private
Excellent service. And very effective. Was accepted into all schools I applied to: Wharton, Booth, and Columbia.
User: Private
Got accepted to Chicago Booth with part scholarship
User: Private
My head consultant was amazing. Thank you!
User: Piggles
Ross is my number one target, and I really think Veritas helped my application go from acceptable to very strong. While my advisor couldn't help my stats, her help with the essays was invaluable.
User: Piggles
Veritas is really good. Marking good is a very strong rating for me and I'm hesitant to go into excellent before I know the outcome of my applications.