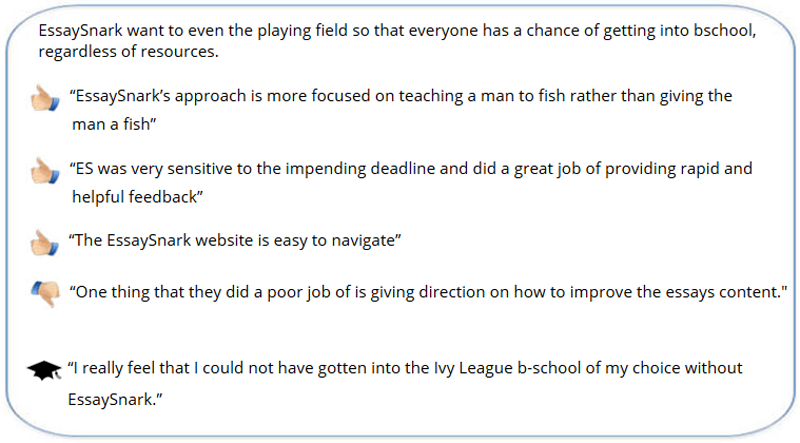 Reviews from company website
"Thank you EssaySnark. I have decided to join ISB. Your blog and the school guides / interview guide that I purchased were very helpful and even fun to read. Thanks for bring some fun into the stressful journey of applying to business school. "
"First, I'd like to let you know that so far I've found your App Accelerators to be very useful (and affordable – you are the first Bschool application resource I've found that doesn't seem to be solely focused on bleeding money out of prospects). I'm eagerly anticipating your feedback on two accelerators right now. "
"Thanks for a great service -I subscribed [to the blahg] for 4 months, along with purchasing a couple of the strategy guides, and it was a huge help during applications (and afterwards). I was fortunate to get into Kellogg, Fuqua, Anderson and Kenan-Flagler (perfect 4 for 4!), some with $$, so I have a tough decision ahead!"
"Thanks for the feedback. I love you guys (or gals). I wish I had found you before I went with another consultant but your blog still helped quite a bit. I know there is a blurry line in consulting between helping and doing-it-for-you. I think you guys walk the line well, giving great support without taking away from the applicant. So, of course, I am telling all the Round 2-ers and friends who are applying next year to thoroughly check you out. Keep doing your thang."
"Hey 'Snark, Got into (top school)!! Come on! I am really grateful to you for all the support, encouragement and advice that you provided to me. You really helped me in improving my pitch which I think made the difference in the end. Without your support I doubt if I would have got an interview call let alone an admit. You guys are great!"
"I am very very happy to inform you that I got the call from (great school) last Friday and I´m in!!! I still feel like floating, it´s been an amazing weekend and … well, you know how people feel at this point very well :-) Although I did not use the decimator service for this one, the (great school) Guide was a wonderful tool to work my app, so somehow I partly owe it to you. Thank you! "
"Thanks! I really appreciate the feedback you provided and only wish I had stumbled upon this site sooner in the application process. Very excited for (favorite school) though. I will definitely recommend you to friends applying to business school in the future. Happy New Year!"
"You must be hearing this quite a lot by now, but from the bottom of my heart and on behalf of my family too, THANK YOU SOOOOO VERY MUCH, YOU ARE WORTH YOUR WEIGHT IN GOLD."
"Essaysnark is awesome ! Thanks for helping me throughout the process."
"I owe you a huge debt. I really cannot thank you enough, it would not have been possible for you."
"The site is helpful and straightforward. I had an out of range GMAT, but my essays really pulled me through. The tips I learned from this site helped tremendously."
"Thanks for all the help, EssaySnark. Your comments/insights throughout the process were immensely helpful, and I wouldn't have made it to [TOP SCHOOL] without you guys."
"I first contacted you to use your essay review "Sanity Check" services for one school. I submitted a few applications prior to using your services, and I and positive that the applications I submitted after hearing your comments were significantly stronger than those I submitted earlier on without Snark feedback. It was difficult me to find someone who would give me honest/harsh feedback on my essays, but since the essays are (in my mind) the most important thing in an application that an applicant has control over (can't change GPA, past GMAT scores, work experience), it was essential for me to get an outsider's perspective. Not only did you dramatically help strengthen my essays, but you were particularly helpful once I was accepted into three bschools (Tuck, Haas, LBS, waitlist Wharton), in evaluating my options. Your unbiased opinions of each school and advice you gave given my career goals, were extremely helpful. It was nice to have an anonymous "counselor" in making one of the hardest decisions of my life! Thanks again for everything!"
"I thought I'd cool off a bit and then write to you, but I've been dying to tell you. The most unbelievable thing happened! [Good School #1], [Good School #] and [GREAT School]!!!!!! [GREAT school]!! Oh my goodness me, that is just not sinking in. And I didn't even get a call, just an email apologizing for not being able to call! And then the congratulatory email! EssaySnark, I will write more clearly later on, but I must say that you were among the first little angels that God sent my way when I was so miserable last year. I owe so much to your help. I could have never done it without you.
You know, I once signed up for a profile evaluation with a consultant and she told me that I had no shot at [GREAT school] at all and was nudging me towards Kelley and other places. So glad I listened to you and the adcom. They really do evaluate holistically!! I wish I could buy you a beer, a case every year for life what the heck, but I do want to tell you that you have a MAJOR fan and friend in me. If there is anything I can do for you, you will please let me know!
Thank you so much from the bottom of my heart! I heart EssaySnark! A grateful now STBBSer"
"I really benefited from EssaySnark's pro-bono service. As a former Teach For America Corps Member turned government worker, I did not have the budget to hire a full-time consultant, but I wanted and needed guidance on my MBA strategy. A TFA friend had a really great experience with EssaySnark and suggested I complete a comprehensive profile review. I was incredibly impressed with how detailed their comments were and how much time they spent evaluating my profile vs. my career goals vs. my target schools vs. the candidate pool. It was also helpful to see how someone, like an admissions officer, would view me on paper alone. I learned that I had many gaps in my profile, some which were actually not gaps and others I had to figure out how to work around. For instance, my description of my undergrad degree made it seem like I hadn't completed my second major, even though I had. I was able to easily update my resume and remove the ambiguity. The other, main glaring gap with my profile was my quant GMAT score. I took EssaySnark's advice and retook the GMAT – and got the same score. To overcome that gap, I focused on my analytical strengths elsewhere and wrote an optional essay to address my GMAT score. I ended up getting into 3 of the 6 schools I applied to and none requested that I enroll in "math camp." I accepted an awesome fellowship at Duke and cannot wait to start in August. Thank you EssaySnark!! Thank you again!"
"Getting into your dream school is no easy task ! Everything needs to fall in place. MBA applications are the longest part of that journey — especially when you have to write multiple essays about you. Most of my credentials were pretty solid — GPA, GMAT scores, experience etc. but the acceptance rate for my dream program was among the lowest and for me that was the only school I planned on applying. I knew I had to get the essays right to be selected. I had devoted significant time to writing essays but I wasn't satisfied. Something was missing! It seemed impossible to say all that was needed to make that impression on the reviewer in just three essays with limited words. That's when I started reviewing online blogs to see what other's in a similar situations were doing. This was less than a week before my submission deadline. In that frantic search I happened to find EssaySnark.
That was as close as one can get to finding that magic wand !!
EssaySnark helped me highlight the most essential pieces of my content and still have the essays flow like a story. In some cases they only recommended changing the order in which I had written stuff and using the exact same words suddenly it felt complete. I also got the necessary guidance and support on my resume and interview prep. I can say that EssaySnark was there to help me through the process with timely responses to meet an aggressive submission timeline. I also appreciated the fact that EssaySnark was clear upfront that they would not write anything for me, but only review and edit my material to help me build an awesome application. It was important for me that the essays were in my language, and had my personality to them and so this upfront clarification and maintenance of ethics was much appreciated by me.
It was easy to work with them, completely online and quick turnaround. I was extremely impressed by the quality and timeliness of their work. The deliverable was way beyond my expectations and I believe contributed heavily to my getting the interview call within 48 hours of submitting my application and finally the admit.
I would recommend EssaySnark for all MBA applicants without any hesitation !"
"I didn't use Essay Snark for editing services (I don't even know how much copy editing they do). I did all of my application strategy and essay brainstorming myself. I came to ES after I'd written complete drafts of all my Kellogg essays. I just wanted a gut check to make sure that I was telling my story well, using good stories, etc. We focused on my career goals essay because that was the one that was most difficult for me to write and also needed the most work. I purchased a full essay critique and Essay Snark did an amazing job. I received my essay back with in line commentary as well as another 3 page document with summarizing all of the feedback and suggesting ways I could improve the essay. Additionally, Essay Snark and I had numerous email conversations through which I wound up clarifying my goals. It's amazing how much more focused your communication becomes when you have to explain yourself. For me that was the biggest benefit I received. I remember reading his feedback and some of the comments on my essay and thinking, "That's not what I was trying to say!" or "You're totally missing the point." I would get so frustrated and then send him an email explaining to him everything that I thought he had missed. Essay Snark would write back and say, "Ummm…none of what you just wrote is in your essay. Go back over this email and use it to write your essay." Best advice I could get. I stuck with the same goals, story, etc but with Essay Snark's help I was able to communicate it better.
As you can tell I think the world of Essay Snark. I honestly believe that rewriting that essay was what got me into Kellogg. Also I used what I learned when writing my essays for other schools. I hope this helps. Essay Snark goes above and beyond what you pay for."
Great starting point
Jun 18, 2014
The comprehensive profile review was exactly what it claims to be: as honest and thorough an accounting of your candidacy as can be had from your resume and and the hard data points you provide in the online questionnaire. Because of the upfront cost, I felt like I could trust ES's opinion on my profile more than an admissions consultant offering "30 free minutes of advice" but using it as a chance to pitch you. That said, it's simply a starting point and a truly self-aware applicant probably won't learn anything earth shattering. You will get confirmation that you're on the right track which is valuable in and of itself. You know what you're getting going into it, and it's $150 very well spent for candidates looking for some no-nonsense advice and a starting point on the harder parts of the applications.
Thank you
Jun 18, 2014
i'm going to keep this short and sweet. EXACTLY WHAT I NEEDED!
Insightful & Deliberate! Great Starting Point for Aspiring BSers
Jun 13, 2014
I can't rave enough about all the services that Essay Snark provides pro-bono to the military community. After 5 years of military performance reports that dance around the facts and tend to mask any deficiencies, it was truly refreshing to get candid feedback on my potential weaknesses and strengths. I think that the snark provides a great baseline and reality check that can set the tone for the entire application process. The feedback was timely and very to the point. A 14 page assessment on everything ranging from my personal background & experiences (plus an astute additional observation pulled from my area code on my resume) really showed the snark's passion and attention to detail. They were able to provide insight on how to bolster my resume and which facets of my profile to emphasize to the admissions panel. They went beyond the simple metrics of GPA, GMAT, etc. and really made it feel like they took the effort to know me. As a result, I'm pretty comfortable with my school selection strategy and even considering some new options based on their suggestions. In short, the Comprehensive Profile Review is a no-brainer. I've personally recommended it to all of my friends as we make the transition from active duty to (hopefully) the MBA world.
No stone unturned
Jun 05, 2014
I am a bit obsessive by nature. Although I don't plan to apply until next year, I found myself poring over hundreds of forum and blog posts by admissions consultants for other applicants, and trying to apply their assessments to my own situation. After a while, I realized that it was difficult to truly get an accurate picture using secondhand information, and I finally broke down and purchased the Comprehensive Profile Review from EssaySnark. I was not disappointed. I would echo the sentiment of other reviewers, and suggest that everybody considering business school go through this service first, even if you do not intend to apply to b-school immediately. I was pleasantly surprised when I received a 14 page PDF highlighting all the strengths and weaknesses of my candidacy, as well as highly specific feedback regarding my career goals and how adcoms might view them. Some of the material might be familiar to those who have done some research, but seeing it all in one place and applied to the unique aspects of your own profile really gives you a more holistic and coherent view of your own candidacy. Best of all, you do not get generic, unhelpful feedback such as "Nothing makes us think you shouldn't be admitted, but nothing tells us why you should be admitted, please call us." In addition to their very candid feedback, the Snark provides some truly great follow-up. I had some questions regarding certain schools and extracurricular involvements, and the answers I received were as detailed and thorough as the service I paid for. If you're just starting on your MBA application journey, this is great place to figure out where to start and how you stack up realistically versus a very competitive pool. Highly recommended.
Fantastic Service – Awesome (free) Deal
May 23, 2014
Wow. As a junior military officer, I have a lot of expenses. Beer, sleeveless tees, the loan payments on my Mustang GT, Camaro SS, and Challenger SRT. Imagine my surprise when I received this extraordinary service from the Snark-team for free! In all seriousness, this is a great service and would be a great value even if you paid full price. EssaySnark goes through your profile from every angle you could want, looking at your scores, grades, extracurriculars, in my case even talking about the reputation of my undergraduate school and its placement at some of the schools I was looking at. They also give advice on ways you can burnish your profile, talking about whether or not to retake the GMAT, take additional courses, etc. The team will even give you some tough love on your proposed career goals and help you script them more tightly. I can't recommend this service highly enough, and I'll definitely be using some of the other EssaySnark products now that I've gotten a taste of the quality I can expect.
V/R
Bob
INCREDIBLY INSIGHTFUL! Very reassuring!
May 08, 2014
I am an active duty Marine and just received my FREE! comprehensive profile review from the team at EssaySnark. The turn around time was amazing! I received 16 pages of typed feedback in two days.
In my case, this process was very reassuring. Sometimes, us BSers can build our stories in a vacuum, void of other human input. Applying to Bschool needs to be a collabritive process in some sense and collaborating with a team who has a history of past success can be very reassuring. I started with a list of 14 schools that I was interested in and now have 7 schools that I am very confident will be a great fit for me and my family. I was also considering a retake of my GMAT. EssaySnark put whatever GMAT concerns I had to rest (Thank God! I did not want to go through that again!).
I firmly believe that, if you are a strong candidate who has been building your profile by yourself, you should bounce it off of EssaySnark. The a la carte services they offer is very low risk high reward when compared to other consultants who require a very large flat fee. I will definetly be using their paid services for several of my essays to schools they helped me choose.
FPHAWK
In-depth, detailed and insightful advice
Apr 22, 2014
I chose to purchase the comprehensive review after reading a lot of the articles on the ES site and seeing all of their honest advice. I am just starting the application process and have spoken to a lot of consultants who were just feeding me a lot of compliments to get me to sign up for their services. With ES, I was looking forward to receving honest feedback about my true potential as a candidate.
I was very impressed when I received my review and could tell that whoever wrote it put a lot of thought into what they were writing. They didn't sugarcoat anything which is exactly what I needed. They also gave me specific examples of what I could do to improve the noted weaknesses in my application and made suggestions based on each school that I'm considering. They even highlighted some weaknesses in my profile that other consultants had been touting as advantages. It was really refreshing to read through the review and see in black and white what I need to work on and what I can feel good about in my applications.
If you put the time in to submit a really thorough questionnaire I honestly see no reason why you shouldn't purchase this service. It really does add to your application process and helps you to see what your real status is as a candidate – including factors other than just your GPA and GMAT. It was definitely worth the money and I would absolutely reccomend the service to a friend or to anyone who is serious about their business school applications.
Thanks again!
Personalized and extremely thorough
Apr 05, 2014
I was offered this service pro bono and I have to say that I was very impressed by the level of detail that ES went into in the comprehensive review. From covering to GPAs/GMAT scores to recommended courses of action, for the upcoming months, the review was an (extremely) honest, no-BS assessment of my profile.
The profile review was also helpful as it contained a good amount of "insider" type information (that may not be wholly obvious to all MBA candidates) about the MBA application process. This included details such as non-surface level nuances of specific schools, and how to tailor your approach to each one.
A caveat – this should honestly go without saying, but do your best to be as thorough and detailed in what you submit – as it says above, ES can only go off what you give them. The feedback they give can be even better tailored with quality inputs from the client.
Highly recommended! Thanks!
Excellent bang for the buck
Jan 28, 2014
This product is an amazing and detailed SWOT analysis of your profile. I highly recommend this if you are serious about getting in a B-School, since self-awareness has a huge impact on that.
Thank you Essay Snark!
Dec 26, 2013
I was offered a Comprehensive Profile Review pro bono, since I have a social sector background. Thank you Essay Snark! So, first suggestion: If you are not military or Peace Corps, but have a decidedly do-gooder backgroud, ask them if you qualify for pro bono help.
The Profile Review was particularly helpful to me as my profile has some anomalies and I was unable to assess my chances at all. If, like me, you have a very limited amount of MBA-types in your network and a background that doesn't fit nicely into a typical MBA path, you'll find this service very useful. EssaySnark was able to answer most of my questions, so I know what to focus on in my applications.
Also, they are patient! I practically wrote a novel in the "Do you have any questions?" section, and they were awesome about it.
I got a quite detailed (and personalized) report of my strengths as a candidate and the aspects I should make sure come through in my application. It was just as thorough as I had come to expect after reading all the positive reviews and, even though I was probono, I think you'll find it well worth the regular price.
One warning: knowing where you stand -and getting personalized suggestions on fit- can cause your target school list to shake and move a bit, so do this VERY early! I waited too long and now I am struggling with whether or not to change my targets quite late in the season.
THANK YOU AGAIN, ES!
Do this first before you even start the process!
Dec 07, 2013
I am very thankful for the Snark for the extremely comprehensive review. Others have mentioned that this review is a wake-up call, and I assure you that it is, because I was so lost and confused about the process before engaging this service. I am a young applicant and most senior colleagues in my industry do not hold MBA but EMBA when they reach C-level. So I didn't have much information, and asked the Snark so many questions, way more than typical. Then I got back a 19-page review covering every aspect about me. The Snark was very patient and direct to point out my weaknesses (boy I was a bit disappointed and humbled when I first read the review), but I really appreciate his/her honesty.
The review also gives you ideas for your application. I did my first app on my own as I only finish GMAT 1 week before the deadline of the first school (please dont do that!). I refer back to the review to organize my essay ideas, and the review has been extremely helpful in that sense. I finished the app in 6 days, really.
Overall, strongly recommended! I know the process can be confusing, but this is great value for money.
Comprehensive Profile Review
Dec 02, 2013
I'd like to start with two words: "wow!" and "thanks!" The comprehensive review was certainly the best thing I could have done at this point in my bschool journey. While I was somewhat disheartened to learn that my experiences and chances so far are just "in line" with everyone else's, the insight is a great wake-up call that tells me I'm not "the sh!t." I appreciate the objective feedback and will take it to heart as I develop my application strategies over the coming year.
You guys rock – I'll be in touch and am looking forward to the experience!
Redefined "COMPREHENSIVE"
Sep 08, 2013
The report that I received after filling up the initial questionnaire redefines the word "COMPREHENSIVE". I had never expected it to be so detailed. It was a 17 page report based on my resume and the questionnaire. It covered every aspect of my profile – GMAT, GPA, goals, diversity, and school fit. The report is a perfect example of clear and honest feedback (no beating around the bush). Essaysnark acts as a perfect sounding board. It also clearly mentions your chances (with reasoning) for schools mentioned in the questionnaire. The report leaves you with areas (strengths and weaknesses) in your profile that you needs to think in detail. I would recommend this to anyone who is planning to apply to business school. I am impressed with Essaysnark and I also signed up for the Complete Essay package. Thanks Essaysnark.
Comprehensive!
Sep 07, 2013
EssaySnark's Comprehensive Profile Review is well worth the low cost. I tried several free consultations and even one paid consultation, but I always felt like something was lacking. This BSer found that missing value in ES's CPR.
First, it's extremely detailed. GMAT, GPA, school selection, career goals, accomplishments, candidate pool comparison, and school fit – it's all covered, IN DETAIL. Second, their written review provides advice and action items you can refer back to again and again, which comes in handy when you're crafting your application. Third, in my case, it served as a nice wake up call to get my butt in gear, even though I was starting pretty early.
One thing I wish I had done prior to using this service was to actually take the GMAT. Without it, ES could only go on my expected score and advise me on where my score should be to give me a shot at the schools I was targeting.
I highly recommend you use this service if you are like me and don't have a lot of people you can ask about B-School. Even by searching forums and scouring the internet, I still could not quite tell where I stood or what my next steps should be to maximize my chances at my top schools. ES gives you her/his perspective on how you stack up, based on the thousands of applicants ES has seen over the years.
The only thing left to say is thank you EssaySnark!!
Definitely Recommended
Aug 29, 2013
Can't thank EssaySnark enough. My background is fairly unique, and to be honest, I had no idea where I stood. If you are a non-traditional applicant, EssaySnark will let you know where you stand, but more importantly focus you on what you need to do next.
The review was long, thorough, and honest. I couldn't happier. Thanks EssaySnark!
Unparalleled insights! If your time is money, don't waste time with others (speaking from experience)
Jul 19, 2013
The Comprehensive Profile Review was absolutely priceless. As a re-applicant who received some admissions support from a large consulting firm during the previous app cycle, I honestly did not expect to receive any stirring insights into my candidacy let alone any really specific advice (I anticipated it to be a similar experience to the ubiquitous 30 minute "free consultation" services that I took advantage of during the last admissions cycle…I wish I could have those hours of my life back). Essaysnark blew me away. I received a dozen pages of thorough insights, including SPECIFIC advice as to questions like "Should I re-take the GMAT?" "What's my biggest weakness?" (I capitalize SPECIFIC, because I've asked the same questions to other services before, and received the usual vague/"it depends"/"I'll tell you if you hire me" type answers that don't help. Even the paid services I received before left me unsatisfied, that I would end up getting 2nd and 3rd opinions from other MBA friends. I will definitely be
letting my friends and other service-members looking for an MBA know about Essaysnark. I'm convinced that if I had utilized their services last application season, I would have had a successful outcome (not to mention save a lot of time, $$$, and disappointment). BOTTOM LINE–> IF YOUR TIME IS MONEY, DON'T WASTE IT WITH OTHER FIRMS' SERVICES, JUST CONTACT ESSAYSNARK FOR THEIR UNPARALLELED COMPREHENSIVE PROFILE REVIEW.
Very Personal Review
Jul 17, 2013
I had the Comprehensive Profile Review done a few months ago as I was preparing my strategy for my MBA applications. The aspect of the review that stood out for me was the personalized strategies that EssaySnark suggested for me use. I had done my fair share of research when it comes to applying to business school, but EssaySnark suggested strategies I hadn't previously considered. For example, not only did I discover what my strengths and weaknesses are, but also I received strategies to play to my strengths and minimize my weaknesses.
Furthermore, if you have follow-up questions to your profile review, EssaySnark is willing to answer them free of charge. The one downside I found is that the questionnaire doesn't really cover your accomplishments and achievements, which is a critical piece to your application. Therefore, you don't really get a good assessment of this aspect of your profile. However, EssaySnark does have an app for that (and maybe that's why it's left out of the questionnaire).
Still, I'd recommend the Comprehensive Profile Review to anyone thinking about applying to business schools within the next year. Not only do you get a review of your profile and learn where you stand at your target schools, you also get personalized strategies to employ during the application process.
Extremely thorough. Great value.
Jul 05, 2013
As a military candidate, Essaysnark did the profile review for me pro bono. For 20 minutes of my time, I couldn't ask for a better value with the 15 pages of free feedback I received.
As someone who'd done a fair amount of research, I didn't expect much, but they definitely provided valuable and fresh advice on areas I was weak in (career goals) and to questions I was on the fence about (how to address my low GPA). It's actually useful advice, not some vague generic adcom spiel.
If you're military, deals don't get better than this. If you're a civilian, it's still a great value. Thanks Essaysnark for taking the time to do pro bono work!
Exceptional review with a personal touch.
Jul 03, 2013
Even though the comprehensive review had limited data available, my ES reviewer connected to me personally with comments. Also, ES gave very honest opinion and pointed me to the correct direction. Exceptional work. Go ES Go!!
Incredible, comprehensive and realistic. Exactly what I needed.
Jun 07, 2013
I was expecting a short summary of my chances, what I got was a detailed 14 page review covering all aspects of my application. The review went into how my background, work experience, and academic record stacks up against the typical candidates for my chosen schools. I now have a focused strategy with which to drive my application forwards.
My recommendation is to make the effort with your questionnaire; the detail that these guys go into is phenomenal so give them everything that you think is relevant.
Comprehensive' Profile Review
May 25, 2013
Anyone who has been following the blahg knows that ES knows what they are saying. This review is a further testimony to that fact.
The profile review is comprehensive in every sense and covers all aspects of the B school application. You are compared with your fellow applicants at each stage of the review and an honest feedback is provided.
As mentioned by other reviewers, THIS is the right place to start your journey.
Exceptional Value and honest feedback
May 12, 2013
Anyone who is new to the MBA app should use this service. snark covers all your areas and his feedback would have costed thousands of dollars at other places. He's knowledgeable and just have great analytical skills, he does not know me but just from the questionnaire I completed I felt he had a great understanding about my situation. I absolutley recommend him.
Can't get better than this
Mar 03, 2013
There are plenty of profile reviews offered out there, but none is as detailed as this one. The Snark asks for a lot of info on your candidacy and gives back 10 times more. Get ready to be blown away by the personalized assessment that gets you thinking… No matter how much you think you know, you can always use that objective take from someone with much more experience in this game. EssaySnark covers all the aspects of your candidacy in the review you receive: GMAT, GPA, your goals, your school list, etc. I think I've read my assessment so many times since receiving it, I've practically memorized it.
My advice is to go for the comprehensive profile review as soon as possible, but do some research first to get the most out of it. Spend some time thinking about the kind of questions you'd like to ask EssaySnark, as there is a section for that too. Most definitely go for it before you start writing your essays! The Snark pointed out some potential angles that hadn't even crossed my mind. Now I see the red flags and I'm better equipped to explain them.
Want an MBA? Talk to The Snark!
Nov 29, 2012
The comprehensive profile review provides invaluable insights at an unbeatable value. I thought I'd done a fair share of research at what was needed to be a competitive applicant at specifically targeted schools and The Snark broke it down for me in a highly detailed and personalized 14 pages of B-School knowledge.
I received an analysis for each part of my application: GMAT, GPA, work experience, community involvement, school specific recommendations, and so on. The Snark even picked up on my logic for certain things, such as my b-school preferences.
Most importantly, EssaySnark directly answered all of my questions, provided insights on items I had never considered, and responded to my initial inquiry within the promised time. I only wish I'd done this sooner!
A much-needed dose of reality!
Sep 21, 2012
I'm going to have to echo many of the comments listed below by the other BSers. I received my profile review back early this morning, happy and excited to plow through the 15 pages of critical assessment provided by The Snark. And of course, like many others before me, I was completely blown away by the level of detail and personalized attention provided through this profile review. The Snark did an incredible job of breaking down each part of my application, explaining red flags, what works and what doesn't, and most importantly – wasn't afraid of telling it like it is! I also came away with some great localized insights on the US programs that a non-US applicant such as myself wouldn't otherwise have access to.
All in all, I really do appreciate the 'no holds barred' honesty, especially from someone who's been in the industry for such a long time and seen it all. The comprehensive review shed new light on gaps/holes that I have in my profile, and what kind of a role these gaps will play when adcoms are reviewing my application. It really just brought to light how much work I still have to do – which areas are worth the time/effort to spend fixing now, and practical suggestions on how to approach strengthening those weaknesses.
The Snark also went above and beyond by answering other questions I had that were outside of the scope of the actual review, which definitely provided some great insights. I feel much better prepared about next steps, and I recommend purchasing this service to anyone – even if you aren't sure about other ES services, this will get you on the right path and give you the confidence (and the reality check) you need to move forward towards framing your overall application strategy. Thanks Snark!
Do it. In fact, make it the FIRST thing you do if you're applying to B-School
Sep 21, 2012
Great service. I've spoken with at least 3 other consultants, and only one came close to providing this level of honest feedback at this level of detail. However, a key benefit of this is that you receive it on paper, in a structured, organized manner. Any aspiring b-schooler can appreciate that, right?! On top of that, you'll get snippits from the other guides, which are extremely helpful (though I recommend shelling out the ~$15 for the other guides as well).
One last thing – the "snarkiness" and "brutal honesty" comments, while said in a positive tone, are a tad overdone and misleading in my opinion. I didn't find the report at all snarky or painfully honest. The best way I could describe it would be "genuinely, yet tastefully honest". Not once did I feel like The Snark was being snarky just for the sake of it. The report was refreshingly straight forward, but professional, genuine, and actually quite empathetic.
TL:DR (any redditors out there?) – Great service, highly recommend it!
Much better than any other consultant
Sep 08, 2012
So I will keep this short and sweet. I spent three weeks talking to other consultants and deciding if I wanted to engage them. Thankfully I found EssaySnark. Their advice and detailed review was far more than all of the other consultants provided combined. The value here is fantastic and I highly suggest this for anyone thinking about or applying to business school.
So honest it hurts!
Aug 23, 2012
I needed a real wake-up call when it came to the way I was presenting myself and my goals. I also needed a reality check on which school to target. If you have tried a few free consultant profile reviews, but where worried they're assessment was a bit… crappy general, this is for you. Comprehensive, honest, and, of course, snarky.
In real life, I think we'd be friends.
Aug 23, 2012
I'm a very critical human being. Overall, the assessment was straight-forward, easy to follow, and made sense to me. My weaknesses and strengths were highlighted and pitted against each other. I feel like after reading the review I have more ideas on HOW to present myself to the adcom via letters of recommendation and essays (which is exactly what I've been BEGGING other consultants to do for me – Jeez!). I feel like EssaySnark was able to see me for who I really am (to the extent that's possible in a static online submission form).
My only qualms, which would lead to a 1/2 star reduction, possibly, were a couple "standard" suggestions: I really don't want to take another quant course at NYU to make up for my "average" GPA and "average"/2nd tier GMAT! I think because my GMAT score is up in the air, it was a bit hard for the Snark to nail down what my odds were at each school, but I would have appreciated a somewhat more in depth review of what my strengths/weaknesses were for EACH school, rather than a couple of them. EssaySnark also suggested a couple of other schools that I have no interest in, ugh. I guess that's how these things go, though.
I will definitely be using EssaySnark's services for my HBS application, and possibly Stanford as well.
Just what I needed for my B-school strategy!
Aug 18, 2012
The comprehensive review was way more than I expected- it outlined my strengths, broke down my school choices and advised me how to proceed. I cannot recommend this review enough, no one else will give you the honest feedback you need- no friends, co-workers, family.
I continually refer to the profile review to see what I need to do to get into my top choice schools. EssaySnark really gives you what you need to hear!
Honest and Comprehensive – Great Value!
Aug 18, 2012
I was initially unsure about the value that a profile review could provide. I had a lot of questions regarding my application strategy and signed up for the comprehensive review mainly to get the strategy sorted out. Boy, was I not blown away by the review! I got 16 pages of exclusive feedback covering all the questions I had. Essaysnark was kind enough to patiently answer each one of them. It took me multiple readings to digest all the information available there.
I would highly recommend a comprehensive profile review by EssaySnark over a free review from any other consultant; free reviews are usually just a gimmick to shove their services down your throat.
An Invaluable Service
Aug 07, 2012
In all honesty, I was a little reluctant to indulge in this service given that I had already received feedback from other consultants. However, I can say with complete confidence that those fears were misguided.
EssaySnark offers as thorough a review as can be had based on the information you provide. They go on to analyze your strengths and weakness via all your profile information – academic history, diversity factors, leadership/accomplishment criteria, and your school selections. Once completed and returned, you're left with a manifesto on how you measure up to the competition and at your prospective schools.
The feedback you will receive is invaluable, and you will be using this profile review as a reference point for the rest of your application. The review honestly takes a few reads just to intake all the information in it. It is a must have and certainly worth every penny!
It is really COMPREHENSIVE
Aug 06, 2012
I purchased this service as I was struggling to figure out where I stand and how to approach the applications. I am glad I did. This is indeed the most comprehensive profile review that a b-school applicant can get anywhere.
t is personal, detailed, and thorough. (12 pages!!). It covered all aspects of the application- Gmat, GPA, strengths, weaknesses, elements that differentiate from others and those that are common among other applicants. It also included feedback on school selection and what would be relatively better strategy to approach them.
Even if one is confident about his/her strategy and approach to b-school applications, just going through this is absolutely helpful.
Profile Review: Great Value!
Aug 06, 2012
I highly recommend Essaysnark. The profile review that I received was extremely thorough. It was all tailored to my specific profile and I could see that Essaysnark took the time to understand my background and make recommendations based on all my information. Within one profile review I felt like they really figured out my strengths and weaknesses. I highly recommend this service, it was well worth the money!
Aug 06, 2012
When I first heard about this service, I thought the final product would be relatively formulaic, but that is not the case! Almost all of the information is helpful and specific to my situation!
In essence, the final product is an analysis of my strengths and weaknesses, as well as a discussion of my overall strategy with respect to which programs to apply to and in which rounds. Unlike other conversations I have had, everything makes complete sense!
I like the fact that in the end, you have a document that you can reference as you go through the process (as opposed to notes or memories from a conversation you had with a consultant over the phone). I believe that the profile review a great value, and a fantastic exercise to get you into application mode (which is exactly what I needed).
Thank you very much for a providing a reasonable service for us Brave Supplicants!
Clear step-by-step analysis.
Jul 21, 2012
First of all, its a very clear and extensive analysis. Not only did you give honest feedback on strengths and risks, but also encouraged me to work harder on my strengths. Those many tips through out the analysis are invaluable. You have set me on the right course. I've learnt a lot from your blahg and The Comprehensive Profile Review… And continue to do so… Thanks ES.. :D
Good, honest feedback – just what I wanted!
Jul 20, 2012
The Comprehensive Profile Review is indeed comprehensive!
It not only highlighted the strong areas in my profile but also provided honest feedback on the weaker sections with valuable suggestions to address them. It also provided me with much needed confidence to know that I was on the right track when it came to school selection and my reasons for wanting to go to each of my target schools.
I would highly recommend the Profile Review to anyone looking for objective feedback on how they measure up to their target school requirements and in fact, for the price it\'s being offered, I certainly think it`s of immense value to any B-School applicant either as a confidence booster or as a reality check!
Success Story! "I now feel much better prepared…"
We love hearing these stories from former BSers! Here's another one to give you hope – and to emphasize the value of the process (more of that self-reflecting and introspecting jazz). This BSer only engaged us for the Comprehensive Profile Review and then made everything happen on their own from there. Congratulations to you! You're a couple months into your first term at Another Great School now – hope you're loving it!
I have been thinking about getting an MBA ever since I did a summer course at Tuck between my sophomore and junior year of college. It was an amazing experience – I loved my interactions with classmates, the coursework, and the close-knit community. I knew that someday I wanted to have that experience again. So, when I graduated from college and had some time before I started my job, I used to it to take the GMAT (if you have a month or two before you start work, definitely do this!).
A year ago in May [2012] I started getting ready to write my essays, anxiously awaiting the release of the prompts. I knew I had to get my essays ready more quickly than most, since I planned on applying early to Columbia. I loved living in the city, probably wanted to stay after business school, and why make the process more painful than it needed to be if it worked out with one school? My friends and mentors slowly convinced me that I might be selling my experience short if I didn't even consider other schools. After about a month of debating, I decided they were right – even if I ended up at Columbia after all (an amazing outcome) it was worth going through the process, at least for the experience.
I am extremely glad I took their advice. While the process was long, stressful, and agonizing, I felt like I learned a ton about myself. Business school for most people is an opportunity to switch into a new field and explore a variety of career options. Writing essays and interviewing at multiple schools made me do some deep self-reflecting on my own career, what I wanted out of business school, and what I hoped to do long term. I now feel much better prepared to dive into business school and have a better idea of what I want to focus on and develop while there. Ironically, reflecting and writing about what I thought I wanted to do after business school – focusing on the automotive industry – has actually made me realize I do not have as much of a passion for it as I originally thought.
In the end, I got into Columbia, but am actually not headed there. I will be headed to another great school, in another big city. The process made me realize that while I definitely want to stay in a big city, I think I would gain much more from the experience being outside of New York. Being elsewhere will force me to be more invested in the entire experience.
Great advice: If you're still in college and you know you'll want to go to bschool, then consider taking the GMAT while you're still in study mode; stay open-minded about which schools, 'cuz you never know which one you'll fall in love with; and don't overlook the value of all this work the schools are putting you through, in terms of getting to know yourself and planning those future plans. Congrats again, Success Story! Hope to hear from you again with an update on what it's like in bschool.
Success Story! A Journey to the Center of America: A Saga (Part 4: The Decision!)
The final part of the process was deciding where to go. As I mentioned, I LOVED my visit to my "Monday Interview" school. My heart was set on going there. I knew it would be the best two years of my life. The culture was very similar to my undergraduate college (i.e. northeastern, small, liberal arts mentality) and the people were very similar to me. But my head had doubts.
The school where I received the fellowship had astounding academics and professors, and perhaps most importantly, an entirely flexible curriculum which would be very important in facilitating a career switch. I had a tough choice on my hands.
Granted, it's what many call a "high quality problem", but it was still a bit stressful. I was hopeful that the admitted students weekends would help me decide. Then I saw they were scheduled for the same weekend.
I decided to go to the "flexible curriculum" school's admitted students weekend, in order to give it a fair shake. I knew if I went to the "Monday Interview" admit weekend I would fall in love all over again and go there without thinking twice.
After going to "Flexible Curriculum's" admit weekend, I still didn't like it as much from the fun and social aspect when compared to "Monday interview". But I liked it enough that I knew I'd have a good time over the two years, make some great friends, get a superb education, and hopefully land a target job.
I was still on the fence though, so I spoke to one of my firm's partners, who also wrote my Letters of Recommendation. He framed the situation like this: "You already are "Monday Interview". I know you'd have a great time there, but how much would you grow as a person? Take yourself out of your comfort zone, be in a more diverse crowd, and position yourself professionally in the best way you can". I had never thought about it that way, and after some more soul searching, decided to follow my head instead of my heart.
After completing this journey, I'm thrilled to start the next chapter in the Windy City, come August. I'm glad to have reached the middle of America successfully, and who knows, maybe I'll even see some of you there!
EssaySnark certainly is not casting doubt on this BSer's decision to go to the Windy City, however that advice from the recommender just strikes us as a little odd. We get it, yes, diversify, spread your wings, go outside your comfort zone… But for most people, when you resonate with a particular school so much, and when that school LETS YOU IN… well, we'd be inclined to assume that you would want to GO THERE! But that's just us. :-)
Deciding on a school is an important decision, and it must be YOUR decision. When you get to this point in the process, we have a whole slew of posts to help you figure things out. And no matter what, as we said to this BSer way back when he was in the throes of the decision, bschool at ANY OF THESE PLACES would be awesome. Not like you can make a wrong choice between them. (Hey, we actually have a blahg post on that….)
So, final words: GOOD LUCK!! to this STBBS. We hope you have fun in your two years in the Windy City. We hope you'll stop back by from time to time and give us a report on how it's going for you!
Success Story! A Journey to the Center of America: A Saga (Part 3: Punched in the Gut → Giggling like a School Girl)
While on a project in South Africa, I received my first bit of good news: an interview invite from the school I applied to in a week. Sadly, the interview invite for one school never came, and the third round 1 school was an applicant initiated interview. I scheduled three interviews for one week in November (Two round 1 school interviews, and one round 2 school applicant initiated interview).
My first interview was on a Monday, and I thought it went OK. My second interview was on a Wednesday and I thought it went well. My third interview was on a Friday and I thought it went great. I was ok with this, because the Friday interview was for my top target school. I eagerly awaited decision day (this may have been the longest month of my life).
On decision day I had my phone next to me constantly, and did not do an ounce of work. As each hour went by, I got more and more nervous. Then the fateful email came: your application status has been updated. Rejection. I felt like I had been punched in the stomach. Gut wrenching really is the most appropriate description of how it felt, and it took a day or two to get over. Eventually though, I picked myself up and decided to do some round 2 applications.
Before doing my round two applications I spoke to some current MBA students entering my target industry, as well as some MBA grads already there. I ran my story by them, and they helped me identify weakness and strengths. I adjusted my goals by shifting my short term goal to the medium term, and by creating an adjusted short term goal. My round two applications were much stronger for this, and I can't stress how important these discussions were. I highly recommend this to anyone embarking on the MBA journey. If you don't know anyone in your target industry, reach out to people in clubs at your target schools. They will be willing to talk to you because they went through the same application process and know how challenging it can be.
After getting two rejections and a waitlist during round 1, I was nervous about what would happen round 2. Then the first call came in February. I got into the "Monday Interview" school. After I stopped giggling like a school girl, the admissions representative told me she had more good news: I received a scholarship! She said the interviewer very much enjoyed talking to me, which is more anecdotal evidence that if you think your interview went only OK, it may very well have went great! The best part about all of this was that this school was by far my favorite after having completed my visits. The culture was unique, the class size small, and the location perfect.
About a month later, I received the next call. Another acceptance, and this time an even bigger scholarship in the form of a prestigious fellowship. The following day I received my third acceptance. The results were in, and come June 2015, I would be an MBA graduate.
Success Story! A Journey to the Center of America: A Saga (Part 2: The First Year)
Now, at this point, you might be asking yourself, "surely he wasn't going to try to apply in Round 2 of 2011/2012 given he took the GMAT on December 21st, and most deadlines are in the first week of January". This is a question I probably should have asked myself, and is a big reason for the timing of this post (I'm 2012/2013 success story).
I hastily wrote my H/S/W essays in about a week and a half, and really had no idea what I was doing. I asked my direct manager for a recommendation and I asked our firm's CMO, as she was an alum at a target school and had a flashy title. The recommendations were good, but I didn't have the time to sit with my recommenders and discuss career goals, what accomplishments I would cover in my essays, etc. As a result, the messaging wasn't targeted and there was a bit of overlap in "success stories". Lesson learned. I had some post-MBA friends read my essays, but because they were friends, they were too nice. They edited sentence structure, told me to add something about a club I wanted to join, but what they didn't tell me was that my underlying career goals and overall story really didn't make a whole lot of sense. That's the danger of having friends read your essays. They mean well, but it's very tough for them to provide brutally honest advice. I was rejected without interview at all three schools.
I decided I'd try to do things differently the next year. And then I made the same mistake many others do. I got complacent.
For the next 7 months I did very little. I did go on some school visits and coffee chats over the summer, but I didn't even look at the essays until September. I had been hoping to write them in August, but work got busy (think triple digit hour work weeks, sleepless nights busy), so I had no time. At this point, I knew I needed help fast, so I started researching the various services. I didn't want to use a traditional consultant, because during my conversations with them, including one very prominent one, I got the feeling that I'd be cheating if I used their services. They suggested career goals that were TOTALLY unrelated to what I wanted to do, with the mentality that "the one and only goal is getting you in".
Then I came across EssaySnark's application bundle thingy and saw the exercises and various assignments focused on introspection. I decided this would be the most ethical route, as I really only wanted help tailoring my message and structuring my writing. The difference in cost didn't hurt either.
I started with the comprehensive profile review, and then did the full package. I was about a week away from a target school's deadline, and was very nervous that I wouldn't have time to get the application done if I worked with EssaySnark, as there would be turnaround times and what not. Fortunately, ES was very sensitive to the impending deadline and did a great job of providing rapid and helpful feedback. I got the application in (with a few hours to spare no less!) and moved on to the other apps.
I also worked with my recommenders closely, told them what my career goals were, and helped them identify stories accomplishments which would complement my career goals. One recommender allowed me to read his recs prior to submission and one did not (I still haven't seen them) but I was told by the adcom at a school that they were both very strong.
All in all, I applied to 3 schools round 1, and 4 schools round 2. I didn't use EssaySnark for any of the Round 2 schools, since at that point I felt comfortable with the essay writing process. I think that is a testament to EssaySnark's approach which is more focused on teaching a man to fish (let's work together to figure out what drives you, and transfer that onto paper), rather than giving the man a fish (here is what you should say in this essay, and here is how you should say it).
Success Story! A Journey to the Center of America: A Saga (Part 1: The GMAT)
I invite you to join me on a journey. A journey to the center of the eart…err center of America. The prize is a Master's in Business Administration and a much needed career pivot. The journey is one filled with perils, pitfalls, and challenges along the way. Embark on this journey at your own risk, but know that the fruits of your effort will reap a lifetime of rewards.
My journey started in July of 2011. I was an American consultant living in London, and had just rolled off a project, so I had some bandwidth (would anyone but a consultant use that kind of word?). I was free from the distractions of my friends home in NY, so I decided to take a GMAT class. I had GMAT books I had bought from a colleague, and while I read them casually, I never had the discipline to create and stick to a syllabus. On top of that, my company agreed to cover the cost of the class. I used Manhattan GMAT and had a fantastic instructor, though he is sadly no longer with them. My pre-class GMAT score was 700, so I was hopeful for some exciting results in September when the class wrapped up and when I had my GMAT scheduled.
I got to the test center early, had a full stock of rations including sandwiches, trail mix, powerade, orange juice, and water, and was ready to go. I breezed through the AWA and left for my first break in order to refuel. When I tried to sign back into the test room, the proctor didn't know what he was doing, and a queue developed. By the time he figured out how to sign people back in (it was his first GMAT exam) the clock was ticking on my quant section. I couldn't have been more out of the zone. I rushed through the section, and only finished by guessing on the last 3 questions without barely reading. Not a great start. The verbal section went smoothly, and I didn't cancel my score, because I'm far too curious to do something like that. When my score popped up, it looked familiar. Far too familiar. It was the same 700 I had scored before my gmat class. I was in the mid 700s in the week leading up to the actual exam, so this was truly disappointing. My score was also heavily skewed toward verbal. The biggest disappointment was that I knew I wouldn't make any Round 1 deadlines as a result of this.
I scheduled my next exam for December 21st, since I knew I'd have time around the holidays to be relaxed from project work and to prepare for the exam. I practiced by doing test questions in the Official Guide, using the electronic service provided by ManhattanGMAT, which tells you average answer time, the types of questions you are weak on, etc. Then I practiced by doing test questions in the Official Guide. Then I practiced by doing questions in the Official Guide. Get it? I did the entire quant section in the big maroon book, and come December 21st, I was ready to sink my teeth into some algebra, geometry, and number properties.
I felt supremely confident during the quant section felt it went great, and had to force myself to calm down for the verbal, so that I wouldn't blow it on my strength. I wanted to rush through just to see my score, so some deep breaths were certainly had. Once I did click that button to reveal my score, my heart leaped: 760. My score was much more balanced, though my verbal actually improved as well.
GMAT, I'll miss you old friend. Contrary to most people, I actually enjoyed the GMAT, with its concrete results, measurable improvements, and the cathartic feeling associated with finishing a section and getting answers right.
Follow-up Success Story! "What I wish I knew…"
What I wish I had known before I started Business School
1. I used to think I was good at managing email:
That was a lie. I was only good at email because I lived in front of my computer 8 – 14 hours a day at work. Business school is mostly where you learn how to manage hundreds of reasonably important daily emails without sitting in front of the computer for more than 20 minutes at a time. (That email management includes a lot of reading the subject and hitting "delete" just to save time. Oh, and filters. The wonder of filters.)
2. Grades? Are grades why I'm in business school?
There is literally not enough time in the day to get good grades and do everything else you want to do. You will have to prioritize. And you are allowed to prioritize grades! I certainly wanted to when I arrived at school. As an undergraduate *cough* valedictorian *cough* (hey, I'm not bragging, I'm proving to you that no one cared more about getting amazing grades school than I did) I had to learn that, FOR ME, business school is more about learning what I need to learn and less about proving that I can make the dean's list. Again, that was my choice, and yours might be different, but it was a rough couple weeks in the beginning when I was trying to do perfect coursework, and extracurriculars, and sleep. Which brings me to…
3. The Hot Air Balloon Analogy:
When you start business school, you lift off in a basket of a hot air balloon packed with friends, family, disposable income, free time, gym time, healthy relationships, and everything else in your life that got you to that point. Then you get there and load the basket with new friends, schoolwork, happy hours, recruiting, and cramming the most in the school experience. 3 weeks in? You're pretty much chucking as much stuff out of the balloon as possible to keep from drowning in shark-infested waters. It will happen. Just make sure that you don't throw out the stuff that really is most important to you at your core. You know, all those things that made you want to go to business school in the first place.
4. The food might be free, but that doesn't make it worth eating. I may never eat another slice of pizza as long as I live. My goal for year two: learn to pack a lunch, preferably a salad. Also, work off the "business school ten" from all the free food.
5. Recruiting is a contest of the best food and the best stuff. A quality umbrella wins every time; I have enough mugs to last forever; the CPG firms give trial sizes of all your favorite brands. However, recruiting consumes your whole life, so all that free stuff comes at a price!