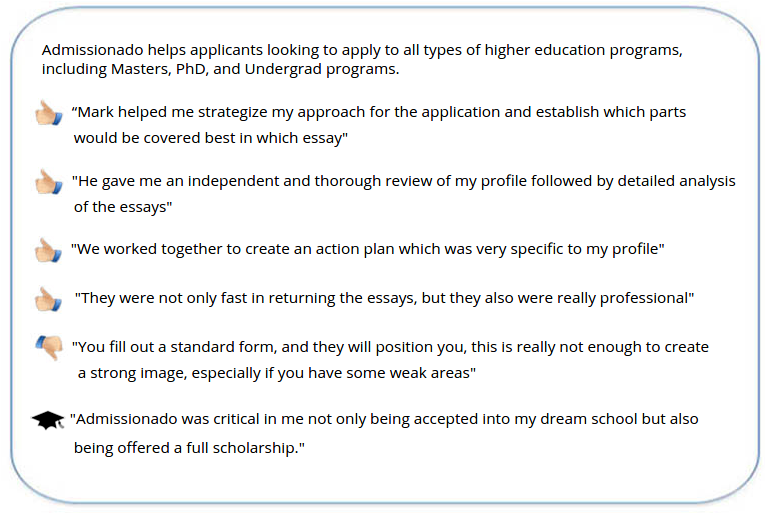 Reviews from company website
I am officially accepted to INSEAD, dude!!!! The GMAT was the biggest concern of mine and everyone's, and today someone with a score of 610 has made it to this awesome and prestigious school.
J.L.
Dallas
Working with you guys has very significantly altered my way of thinking. I am learning to write.
P.P.
Mumbai
So 6 applications, 3 admits and 1 waitlist later, I'm very happy to report that I'll be matriculating at Chicago Booth this fall. You guys are really awesome.
Z.L.
Bangalore
Just got the phone call… I AM IN AT STANFORD!!!! I am still trying to absorb it all. The less than 6% is really scary and I am grateful to be in that bracket.
S.K.
South Africa
I'm an average person with average GMAT score, average GPA and average working experience. With Admissionado's encouragements, guidance and help, I was accepted to INSEAD with scholarship!
L.Z.
Shanghai
I just got accepted into UCLA Anderson. I can honestly say that is not something that I thought was possible when I started this process well over a year ago. HELL YES!
R.C.
California
I'm accepted by Ross! Thank you for all that you have done for me. You didn't help me to get into a top MBA school, you helped change me. What I received from you goes beyond the application.
R.Z.
Toronto
I just got the call from Derrick Bolton…I got into the Stanford MBA program! Thank you for helping me bring out the message in my essays so well. Your guidance was invaluable.
M.C.
Shanghai
I am in @ HBS!!!!!! I am soooooo excited now and THANK YOU SO MUCH!!!!! Eric – I would never have been able to get to this stage without your help!
X.G.
London
Last night I got the amazing news that I not only got into LBS but received a full tuition scholarship! Thank you all so much for your help and guidance through this process.
C.E.
South Africa
I got into Yale!! Thank you soooo much for all the help and guidance you guys provided throughout the application process. I will remain indebted to you for life!!
W.N.
Saudi Arabia
Thanks are in order for Admissionado because I have received a 50% Tuition Fellowship at USC Marshall! It's a BIG amount for someone like me, and being from India, it means a lot financially.
K.C.
Bangalore
I just wanted to thank you again for all of your help with my essays. I also wanted to let you know that I've been admitted to both Harvard and Stanford. I really couldn't have done it without your help!
L.G.
California
I got terrific news, I made it to Georgetown :-) . It so great and I am so happy right now. Again thanks to all you guys, it was a pleasure working with you.
A.K.
Cologne
I have been admitted to Wharton, INSEAD, Kellogg and Duke. You played a very important role in guiding me through this seemingly unconquerable process.
L.X.
Beijing
ESADE has made me an offer with a $20K scholarship. Thank you very much for shepherding me into the right direction. I did not even think that the application process could be this enjoyable.
I.M.
Uzbekistan
I'm pleased to tell you that I got an offer from Booth… It's you that gave me the critical pushes in several turning points including the simple and direct writing approach and punchy interview technique.
P.X.
Hong Kong
Just got the call from Wharton. INSEAD I got yesterday. IN at Stanford, Wharton and INSEAD!!! Thank you, Admissionado.
S.K.
Australia
Admissionado is like a mentor, helping me dig deeply into my experience and present the best of myself to the Admission Committee. As a result, I successfully got into my dream school.
W.M.
New York
I have got an admit from IE. I must thank you and your team for the super help and constant support since January.
D.M.
Mumbai
I received phone call last night and I'm on board from Ross! …Thank you all for your patience and guidance on my application.
J.G.
Tianjin
I got the admission with dean's scholarship from Yale… I really appreciate with Richard and the Admissionado team!
L.Y.
Beijing
I was successfully admitted to McCombs. Thanks to your advices, I was able to round out myself and dig out interesting life stories. It is really my honor to have you backing me up during the whole process.
S.X.
Hong Kong
I got admitted to a Master program of Columbia University. That must be an exciting experience and I am looking forward to my new life in New York. Thanks so much for your support all the way.
M.H.
Beijing
Status update for Northwestern: I AM IN!!!! Thanks for your great support during this painful process. Everything paid off!
C.Y.
Shanghai
I got admitted by Booth with scholarship!! Admissionado inspired me to dig deep of my own experience and my own career plans, which benefited me not only for the application.
W.C.
Chengdu
Awesome news… I got admitted to Tuck!!! This is one of the biggest news of my life!
M.K.
New Delhi
Reviews from Beat the GMAT forums
Username: dik5167
Total messages by user: 2
Posted on: Dec 9, 2012
I had doubts about admission consultants prior to signing on with Admissionado but they have been worth every buck in my opinion. Sure, you can be very passionate and have great backgrounds/stories to tell, but not everyone is a professional when it comes to stringing every piece of information into a coherent/attractive application.
UCLA had been on my radar but Admissionado made it a realistic target for me. My weakness was in organizing my work/life experience into a flowy career arch. Kyn, my personal admission consultant, pointed that out to me from the get go and discussed tactics to mitigate that issue from so many aspects. Kyn not only provided the services promised on Admissionado website, he went above and beyond until he felt that my application package gave me the best chance at UCLA. I just had an interview last week at UCLA and is now waiting for an decision. I cannot be more exicted!
I have no complaints and very grateful to Lauren and Kyn for being so warm, knowledgable, and never condesending. Thank you Admissionado!