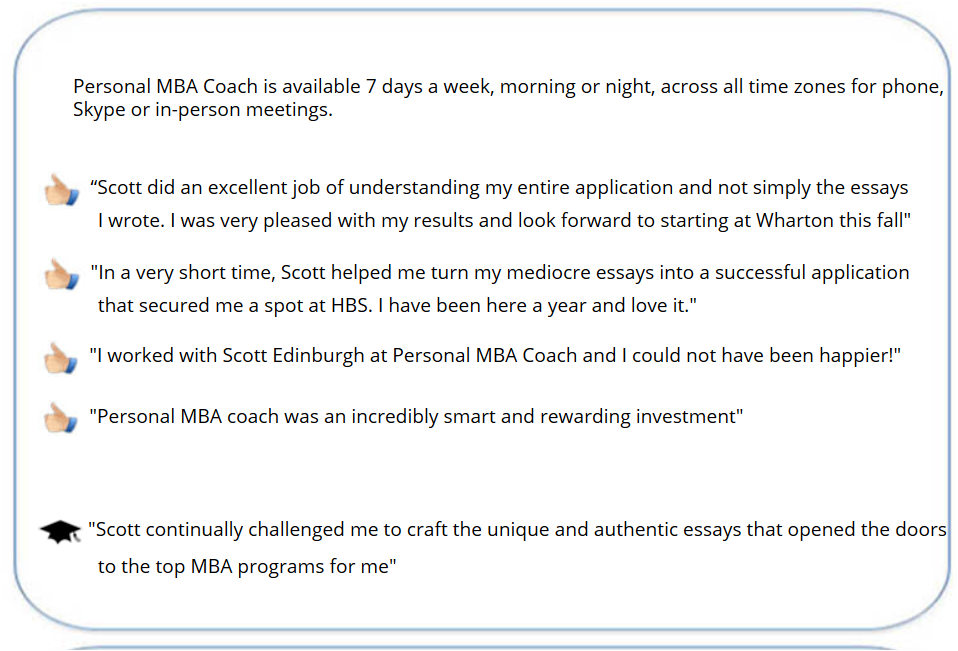 Reviews from company website
If you are even considering working with an MBA consultant, be sure to talk to Scott first. From essay writing to letter of recommendation support to general application questions, Scott is always available and has great insights. The best part about working with Scott is how well he gets to know you early in the process. This helps not only when cultivating your story but also when writing essays.
Prior to working with Scott, I wondered how a single person would be able to do so much but he exceeded my expectations by miles. He challenges you to think carefully and methodically about your application and his ability to provide feedback on a holistic application is impressive. He is always available via phone and e-mail.
Thanks to Scott and his support, I will be attending my dream school, Harvard Business School, next fall.
– Harvard Business School, class of 2018
"Drawing from his deep understanding of how to tailor a successful application package, Scott continually challenged me to craft the unique and authentic essays that opened the doors to the top MBA programs for me."
– Stanford GSB, class of 2015
"We all think we understand how to put together an application, but until one engages in the detailed revisions, it is difficult to understand the benefit of a professional such as Scott. Scott kept me honest and forced me to think outside the box. Getting the HBS acceptance was worth every minute, and I could not have done it without Scott!"
– Harvard Business School, class of 2013
"I give my highest possible recommendation for Scott; I would and have wholeheartedly recommended him to my closest friends. The application process is incredibly time-consuming, stressful, and costly. After working with a big-name firm the previous cycle and ending up severely disappointed, I came to Scott disillusioned and skeptical about the whole process. Thankfully, his exceptional expertise, reliability, and professionalism put my concerns to rest. He won't BS you or tell you simply what you want to hear, yet he's also incredibly supportive and flexible as well. He was willing to tailor a package to fit my needs. The biggest takeaway for me was knowing/feeling that he was committed to my success (which I hadn't felt with the consultant from the large firm). When I was admitted to 2 of 3 schools I applied for, he was just as thrilled as my closest friends."
– Wharton, class of 2016
"Personal MBA coach was an incredibly smart and rewarding investment. Scott couldn't have been more helpful and supportive throughout the entire application process. He took the time to understand my whole story and helped solidify my ideas into a very compelling narrative. He also retained all the information I gave him about myself and my career goals, and was able to help me apply personal anecdotes in various essays where I wouldn't have even thought to include them. In addition, Scott was fully committed to me as an applicant. I had consultations with other admissions consulting companies but they seemed to be trying to fit me into their schedules. Scott was available anytime, throughout 2 rounds of applications, and worked around my schedule to make the most of our time and help me succeed. Finally, Scott is extremely friendly and personable. I was never intimated or anxious that I didn't have enough accomplished when we spoke. Rather, he would ask questions to probe ideas or stories out of me. He truly made this whole application process much less daunting and I can't thank him enough for that. I would enthusiastically recommend Personal MBA coach and can't speak highly enough of Scott. Thanks for everything!"
– Chicago Booth, class of 2017
"With Scott's consulting I was accepted into three of my top four choices. He really knows what works and makes the process simpler than I thought possible. More impressively, he worked with me on an aggressive timeline and was always available when I needed him. I'm not sure if he sleeps, but I'm not complaining. HBS admit under my belt."
– Harvard Business School, class of 2012
"I did not realize how important it was to not just sound genuine but also interested in all of the details I had not considered about the schools. Scott identified which programs would be relevant for me, which ones to stress in my application, and how to package it all together. A great help! Icing on the cake after the essay editing."
– MIT Sloan, class of 2012
"Scott did an excellent job of understanding my entire application and not simply the essays I wrote. I was very pleased with my results and look forward to starting at Wharton this fall."
– Wharton, class of 2012
"Thank you for the brilliant work on my application. I knew I had the experience but did not really know how to put it all together. Columbia has been a great experience so far and I could not have gotten here without the Personal MBA Coach expert help. I was pushed in ways I didn't know possible, but it was worth it in the end."
– Columbia Business School, class of 2013
"Unsure of the differences between the European and the US business schools, I first reached out to Scott for guidance on where to apply. From the initial school selection strategy brainstorming to deciding which school to ultimately attend, Scott was invaluable. Most impressive, his guidance on the letters of recommendation were incredible. London is incredible and LBS is a great experience."
– London Business School, class of 2013
"In a very short time, Scott helped me turn my mediocre essays into a successful application that secured me a spot at HBS. I have been here a year and love it. Thanks so much Scott!!"
– Harvard Business School, class of 2011
"I thought I had well defined goals and a decent story before I was introduced to Scott. He (very politely) had me redefine my goals in a context that made more sense and told a powerful story. The combination of professionalism and personalization is why I found the application process with Scott so rewarding. The benefits of working with a "niche player" should not be underestimated. Scott's passion was clear from day 1 and I was always able to reach him as questions arose. I wish I had him when applying to undergraduate schools!"
– Fuqua, class of 2014
"Fabulous! As non-native English speaker, I was very worried about applications. Besides putting me at ease, Scott helped me in my crazy dream to attend a top US business school. I didn't know it was possible to get so close to someone personally who is on the other side of the world (11.5 hr time difference), but Scott made it work and got me into Stanford. Every single detail is scrutinized by Scott, even the thank-you letters after interview. My only regret is not listening to him when he said me to apply to fewer schools. I applied to 7 schools and got into 6 of them. Don't even think about using anybody else. Call Scott before he books up, you won't regret it."
– Stanford GSB, class of 2016
"Having been out of school over ten years, the application process was something I initially dreaded. Luckily I was referred to Scott because he immediately put me at ease and talked through the process with me. Shortly after he started pushing me and in a matter of weeks we took my career and life story and turned it into an extremely strong application. Scott forces you to think differently and think outside the box, something crucial for this process. Additionally, Scott strikes the perfect balance between being a tough critic and a friendly supporter. I couldn't get one sloppy sentence by Scott without having him critique it, but it is that level of detail that led to my Wharton acceptance letter (and saved me hours of time)! Scott knows what works and even helped me get a fantastic scholarship to cover my whole tuition. The investment working with Scott is well worth it!
– Wharton Executive MBA, class of 2017
"I knew I wanted to work full-time while getting my MBA and not leave NYC, so that didn't leave many options. Plus, I love the village and only really wanted to go to Stern. My crazy work schedule makes me pretty difficult to work with, but Scott made it work while pushing me very hard along the way. Twice I thought I was done but Scott forced me to keep improving my essays. Leave it to the expert as I not only got in but I received a great scholarship."
– NYU Stern Executive MBA, class of 2014
"Coming from a small consulting firm, I was afraid that I didn't have the brand cache to get into a good business school. Working with Scott, I was able to describe myself and my experiences in a way that set me apart from many peers, including those at larger firms. Since I had very clearly defined post-MBA goals, Scott recommended the best programs that could help me achieve those goals. After two years at SOM I have my dream job and to be honest, Scott's intense interview preparation helped me not only for my business school applications but my job interviews!"
– Yale SOM, class of 2013
Reviews from Beat the GMAT forums
Username: HBSAlumPE
Total messages by user: 18
Posted on: Jul 22, 2015
I worked with Scott Edinburgh at Personal MBA Coach and I could not have been happier! Scott offers an incredible personal experience that is very hard to find. The fact that you are working with an individual and not a company cannot be emphasized enough. Don't be fooled by the big company name / support services that some larger firms have. At the end of the day you work with one person most of the time so why not work directly with an expert for the same price rather than an employee of a larger firm?
I hired a more well known name referenced on here and was not satisfied as the support died off as it got closer to the deadlines. I then reached out to Scott via www.personalmbacoach.com and was floored by the level of support I got. While we only had a short amount of time since I contacted him late, he took the time to get to know me personally and professionally and he was the one coming up with essay topics after just a couple discussions. Scott is quite tough and it works out in the end. In a very short amount of time, we did an entire HBS application and I ultimately got in. (As well as a couple other programs I turned down)
With Personal MBA Coach, you get a great balance of no BS, direct and brutal feedback while at the same time you have encouraging support throughout the entire process. Whereas with the other more well-known name I felt like I was a number in the process, Scott brainstormed everything with me from start to finish. Scott is a hidden gem in the admissions consulting space and I have sent many friends to him over the years who also had great success!
Username: bschoolkate
Total messages by user: 2
Posted on: May 21, 2016
Scott Edinburgh from Personal MBA Coach www.personalmbacoach.com is exactly what I was looking for in a business school application consultant!! He has years of experience and is knowledgeable about everything in the application cycle from the GMAT to interviews. He was committed to making me a top applicant and meticulous in all of his work on my resume and essays. He is extremely honest with his feedback and pushed me to make every aspect of my application the best that it could be- and now I am going to my dream school next fall! I worked directly with Scott so he was very familiar with every aspect of my application- definitely not the case at big firms where junior resources end up doing much of the work. He also made it a priority to work around my schedule, both for the application and interview prep. I plan to recommend him to all of my friends applying to business school!