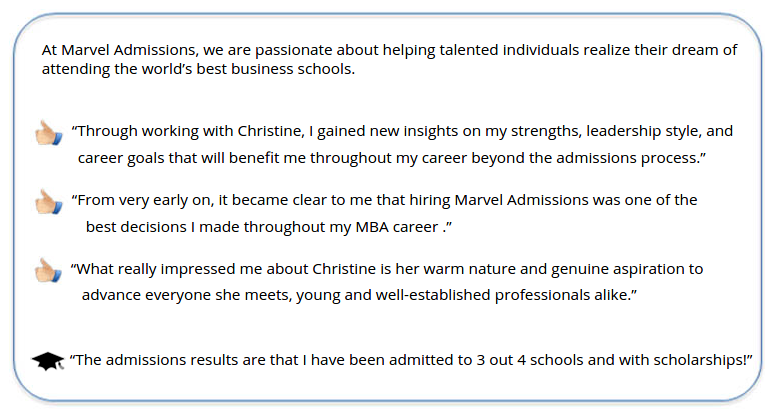 Reviews from company website
Christine is a talented coach and delivers great results
Christine took me from having no clear goals with 2 weeks to go to gaining admissions at my 3 top choice schools, with scholarship at one of them. This was only possible due to her empathy, coaching experience and commitment to my success.
She walked me through the process of finding my goals. This added much value – working with Christine would still have been a good investment, had I not gained admission to any school. She was careful not to put any words in my mouth. Instead, she set out to understand my competitive advantages and unique points, which in turn helped me understand myself better. Her timely feedback was candid and insightful, challenging while encouraging.
I am not a natural at interviewing and Christine's help came in handy: 15 minutes into my first interview I was told I'd be receiving positive feedback. The reason for this is after working with Christine I had solid goals which made sense given my profile, and could provide supporting evidence (Christine helped me focus on the right examples) that I would achieve these goals.
I recommend Christine to anyone and everyone aspiring to join a top MBA program, and especially to folks who are not naturally good at introspection. Thank you so much, Christine!
C.T. – Comprehensive Admissions Consulting Service
Highly recommend! Great Experience
By the end of 2013 I started doing extensive research with various admissions consultants. After speaking with other admissions consulting firms, they didn't sound enthusiastic about the schools I wanted to apply to given my GMAT score. My score was more than 100 points lower than the average for the schools I wanted to apply to. I was fortunate to find Marvel Admissions and spoke to Christine. She asked me many questions to understand my capabilities, experience, interests, and challenges I had to overcome. And based on our conversations, I immediately decided to work with her. There was no comparison to the level of professionalism and expertise that Christine demonstrated in relation to the other consultants I talked to before. She was able to quickly assess and recognize my talents and knew how to overcome the weakness in my profile.
For me it was very important to clearly articulate my leadership capabilities, professional accomplishments, strong work ethics, and intellectual capabilities. Through working with Christine, I gained new insights on my strengths, leadership style, and career goals that will benefit me throughout my career beyond the admissions process. The admissions results so far are that I have been admitted to 3 out 4 schools and with scholarships in all! I was shocked when one of my top schools admitted me and with a scholarship after applying in round 3. I'm still waiting for the 4th school's decision; but I feel good that I have presented myself authentically and confidently, thanks to the guidance that Christine provided.
A.B. – Comprehensive Admissions Consulting Service
Helping Take My Career to the Next Level
As an executive MBA student looking to ramp up my career, I turned to Marvel Admissions to help me clarify my career goals. It is intimidating to "put yourself out there," and found that talking to a Marvel Admissions coach not only gave me confidence, but also showed me the path that would be best for me to follow. Tips were both general and specific in nature.Armed with this expertise, I was able to secure a high-profile management position at a global firm — and this is even before I graduate with my MBA. I highly recommend other students utilize the knowledge and added value that Marvel Admissions brings to the table.
R.S. – Career Coaching Service
Fantastic, personal 1 on 1 service
I started working with Christine in the Spring of 2013 after speaking with several different companies. I felt that after our initial call that she was more interested in getting to me than the cookie cutter calls I had with different consultants. She took great care in helping me to further develop and refine my career goals (as those are the pillars to the application itself). I really felt that all of my applications were a fantastic representation of "me" and not trying to simply say what admissions committees wanted to hear.
After my applications were submitted she remained easily accessible to bounce ideas off of and provided great insight as I prepared for interview.
At the end of the day, it was her help that helped me to gain admission to my top choice school! I can't thank her enough and highly recommend her to anyone looking for admissions consulting services.
M.M. – Comprehensive Admissions Consulting Service
Passionate Consultants! Highly recommend Marvel Admissions!
The application process for business school is short of intimidating and I could not have gotten through it without the help of Christine. She has always been a positive motivator and encouraged me to truly think through my goals and what I wanted out of business school. Specifically, her guidance helped me shape my essays so that I was presenting myself in the best way possible, using the most relevant experiences. She provided timely feedback and patiently worked with me through my revisions. I think the most important aspect of working with Christine is that she has a true passion for the business school application process! She understands what schools are looking for and how to best enhance the parts of an application that make you shine like a star.
In the end I was accepted to my top choice MBA program and I was ecstatic. I cannot recommend Christine enough. Even as a current student I can still rely on her to help answer questions so that I can make the most of my MBA experience. This personalized service is unique to Marvel Admissions and I doubt any other MBA consulting service would be as committed to my success.
S.D. – Comprehensive Admissions Consulting Service
Christine was a savior in disguise.
Many consultants I've talked to testify to the fact that they are doing this job because they love to help others. But with Christine I actually experienced that on the first day. Not only did she answer the questions that were really stressing me out, but she went out of her way to suggest websites and books that I could read to clarify my goals. And those sources were absolutely what I needed at the time.
After discussing my goals with me, she really dug into my essays to find out what I was trying to portray and gave comprehensive feedback on the structure and content.
The first review was an absolute eye opener. In minutes, I was able to understand where my thought process was diverting, going off track or where I needed to reflect again and then start writing. And the most important quality I believe she had was her compassionate, empathetic nature. Because she didn't force her ideas on me, but she presented her opinion and guidance in such an easy to understand, natural manner, so that I could slowly absorb and grasp the reasoning behind those ideas. For me, this was the main characteristic that distinguished her from the other consultants that I had contacted. I'm really fortunate to have gotten in touch with her at the right time and I would absolutely advise other potential MBA applicants, to contact her for any admissions related services.
S.S. – Admissions Consulting Service
Above and Beyond with this Dream Team!
I first met Christine and Jenny of Marvel Admissions at the Forte forum, where Christine was one of the panelists. I was in the process of researching business schools and still considering hiring a consultant. I explained my situation to them- a career switcher, low GMAT score, and dreams of attending a top MBA program. They stood out from the crowd with their compassion and genuine interest in learning more about me, while still exuding a straight-forward, honest approach so I set up a follow-up consultation. The impression they made on me during our consultation confirmed they were the perfect fit for me. They became personally invested in not just my application process, but also my long-term career goals.
From very early on, it became clear to me that hiring Marvel Admissions was one of the best decisions I made throughout my MBA career. After spending a lot of time getting to know me, Christine and Jenny brainstormed and researched careers for me that fit my skill sets, my passions, and ultimately helped me craft a logical career roadmap for my applications. Not only was this in-depth career consulting necessary for the admissions process, but also it was extremely important in preparing me for the real world after business school. I was accepted into one of my top choice schools through Marvel's guidance, received a very sought-after internship during it, and continued to follow the career roadmap they outlined for me, even to this day.
Christine's and Jenny's personalized service, dedication, experience, and creative ability to navigate the mysterious world of MBA admissions are the reasons why I would recommend them above any other consulting service on the market.
T.Y. – Comprehensive Admissions Consulting
Jenny is the bomb!
Firstly, I recommend Jenny to future applicants without any reservations.
I would say that my candidacy was quite basket case from the beginning and I really wondered how adcoms would view my profile. From the get-go, Jenny's experience was useful in helping me evaluate the strengths and weaknesses in my profile. I think the key in her ability was the fact that she has worked in an admissions office previously and that she continues to be involved with the admissions process today.
From a service standpoint, Jenny was ultra-flexible with scheduling times to skype. Also, her friendly demeanor does wonders for taking the edge off this stressful process.
Personally, I found the most value in the end game (interviews). I know that right now, getting the elusive interview invite seems like the end-all, but I was shocked by how much more nervous I became after I received the interview invite. This is where Jenny's expertise came in to save the day. Since Jenny is currently an alumni interviewer for a top school, our mock interview session definitely seemed like the real deal. This step in the preparation process instilled confidence in me, which I'm sure was crucial for my real interview.
I can't be happier about my acceptance to a dream MBA program and my decision to take Jenny along for the ride. Thank you Jenny!
J.P. – Comprehensive Admissions Consulting Service
Jenny really gets to know you on a personal level!
Jenny has helped me tremendously, not only in the application process, but also in building my confidence. After the initial consultation, I knew she would really push and help me get into business school. First off, she really listened to my goals and helped me identify programs and schools that matched my end goal. Additionally, she was very thorough in reviewing my application and helped me strengthen my weaknesses by helping me find an extracurricular activity that would set me apart from other applicants.
Jenny set deadlines for us and always made sure we stuck to the deadlines. She was always so knowledgeable and made me feel that no question was a dumb question to ask when it came to the application process. MBA applications are really nerve wrecking and she made it easier for me to navigate through the whole process. Her responses and reviews were always timely and insightful and you can really tell she has a lot of experience with this.
When I was granted an interview, Jenny met me in person (we lived close enough for this to happen) so that I could fully prepare for it. After the prep and mock interview I knew she pushed me so that I was 100% prepared for the actual thing.
Even now, after I've been accepted to the school of my choice with a scholarship, she is still answering my questions and helping me along the process. I highly recommend Jenny because with her, it's not just about preparing for the application. It's a whole process of helping you grow and reach your goals!
L.C. – Comprehensive Admissions Consulting
Thank you, thank you. I definitely could not have made it through the arduous application process without your advice. You have no idea how much this means to me. I've already started planning a long trip in Asia. I'm looking forward to taking time off and starting school again. Thanks again for your help, I'll be sure to recommend you to other prospective students.
R.C. – Comprehensive Admissions Consulting
Great, astute consultants!
"I got into the school of my dreams!!! Jenny was an amazing support throughout my application process! She helped me recognize how to tactfully play up my strengths and identify weak areas or gaps in my application that I would not have noticed myself. She also helped me organize my applications into a much more manageable, stress-free process against deadlines.
Jenny goes above and beyond to help applicants achieve their full potential. For instance, when I was selected to compete for a prestigious scholarship at my school, Jenny put in extra time and effort to coaching me at no extra charge. I feel there are few other consultants that would be so personally invested in your success of getting into your MBA program of choice. I strongly recommend Jenny to any student aspiring to get into a top MBA program."
S.H. – Comprehensive Admissions Consulting
Bring out your full potential!
"Since the day we had our first session via Skype, I knew that working with Jenny on my applications and MBA process is going to be very pleasant. Jenny took the time to really get to know me both in personal and professional level to figure out my strengths and weaknesses I did not know before. She listened to my story, my goals and most of all, made me really understand why I want an MBA and helped me translate my goals and passion into well-planned and thoughtful applications and essays.
Although we were far away with a time difference, Jenny was extremely flexible with our session schedules and your responses were never short but always thorough and were on time 100%. She paid full attention to me every time and always kept your deadlines so everything was very organized. In addition, mock interview sessions were extremely helpful and the questions she prepared for me were spot on.
Most importantly, she made sure and pushed me to go extra miles and to work harder on my applications. It is really easy to get disorganized and frustrated throughout the application cycles because it requires lots of work. However, whenever I was struggling or feeling stressed out, she took extra steps to help me get back on track.
In the end I was able to get admission offers from top tier schools I never thought I'd get in, and I am positive that I was able to do so because of her help. So dear prospective applicants – look no further. I guarantee that Jenny will bring out 150% of your potential to make you shine among thousands of other applicants. She simply is the best!"
K.C. – Comprehensive Admissions Consulting
Christine' career coaching resulted in getting my dream job!
"…My job search took an interesting turn one month ago when I was contacted by XXX concerning a managerial position in their Taiwan office. After a phone interview, and interview with two of their VP's of Asia, and finally CEO of XXX Taiwan/Malaysia, I've received notice today that they would like me on board as part of their top management team. Suffice to say, their offer and the opportunity to work for a fast growing public company is very exciting. I wanted to thank you once again for the advice and direction you gave me regarding cover letter and resume, since I am sure without it, I would have looked less of an ideal candidate to them in their search for potentials."
L.C. – Career Coaching post MBA