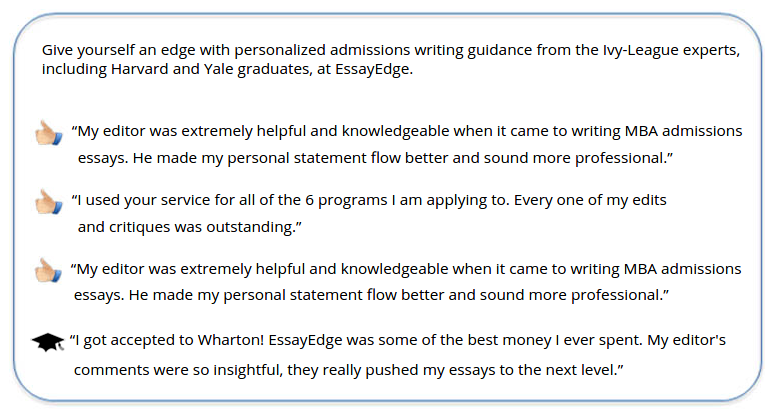 Reviews from company website
"My editor was extremely helpful and knowledgeable when it came to writing MBA admissions essays. He made my personal statement flow better and sound more professional."
"My editor is truly super! I will be requesting her when I place orders for the 3-4 more programs I plan to apply to. Awesome work!"
"I used your service for all of the 6 programs I am applying to. Every one of my edits and critiques was outstanding. A big thank you to my editor, who worked with me on every single one of those orders."
"My editor caught grammatical errors that I didn't even know were actual mistakes. That alone made the service completely worth it to me."
"I got accepted to Wharton! EssayEdge was some of the best money I ever spent. My editor's comments were so insightful, they really pushed my essays to the next level. Thank you again for everything – I could not have done it without your service!"
Reviews from Admissions411.com
User: patrickwilliams
I highly recommend getting a company to review your essays. Don't go into it blind though. Have a good draft ready before you talk with the essay consultants.
User: whismanc
Good essay editing service for non-english speaking applicants, but you couldn't expect it can improve your essay a lot!